Who are we?
The wonderful story of Mathilde M. began in 2002. Drawing its inspiration from the refinement of the 18th century, Mathilde M. brings elegance, charm and poetry to all interiors in a timeless classic chic style. Freely inspired by the heritage of France's castles and beautiful homes, Mathilde M. revisits tradition to combine excellent craftsmanship with the latest innovations.
Fragrances, decoration, baby products, cosmetics, tableware... Each object is designed to bring a touch of gentleness and romance to your home and to create a French art of living, full of refinement. Distributed in more than 50 countries, Mathilde M. is a key player in the market for home fragrance and decoration.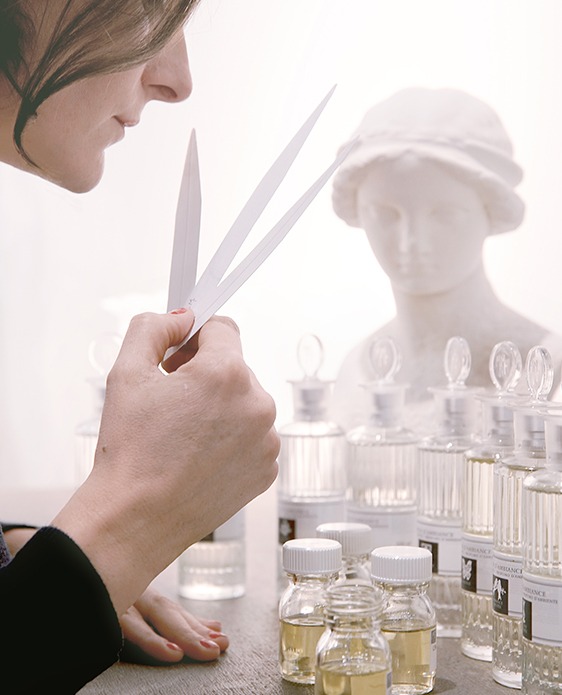 Creation and know-how
The Mathilde M. collections are created with passion and dedication by our team of stylists in our studio in Mâcon, Burgundy.
Each new object is imagined and created from a hand-drawn design by our stylists, a Mathilde M. signature and exclusive designs that make our creations unique. Emblems of the Mathilde M. brand, the scented plaster decorations are all meticulously made in our workshops and hand chiselled to create high quality objects.
The art of perfume
Well-known for her know-how as an expert perfumer, Mathilde M. creates home fragrances that enchant interiors with refined scents. Our high quality home fragrances are created in close collaboration with Master Perfumers located in Grasse, the world capital of perfume, a true tribute to French tradition and know-how. Our complex home fragrances are conceived as body perfumes and are a carefully crafted blend of numerous notes. Filled with memories, they create an exceptional atmosphere that is immediately recognisable in your home.
Discover our collection of scents
Our philosophy

Recognisable at first glance, Mathilde M.'s style draws on the history of the 18th century.

The precious finery of the Elegantes, the sumptuous woodwork and furniture of the châteaux, the paintings and sculptures of the era, the magnificent ornamental gardens... Passionate about art, our designers draw their inspiration from this rich heritage, which they reinterpret with a modern touch in each of our collections.

Committed to a strong artistic approach, Mathilde M. creates her collections and objects with the greatest respect for traditional craftsmanship: everything begins with a sketch, a drawing, which will then come to life on our products.

In our workshops, an alchemy and a meticulous craft technique give life to our plaster decorations. The material is modelled and chiselled to create unique and original objects. The details and the perfect finish are obtained thanks to the harmonious ballet between the hand and the tool. The quality of the finished plaster allows each decoration to be impregnated with a unique fragrance that is released gradually and durably. More than just pretty decorative objects, the scented plaster decorations plunge you into the heart of a story, a unique olfactory universe. Each Mathilde M. object is adorned with refined details handmade in our workshops: stylised ribbons and precious cameos are the ultimate signature of the brand's unrivalled elegance.

To offer this excellence and the pleasure of beautiful products, Mathilde M. is committed to offering quality objects that meet extremely high standards.